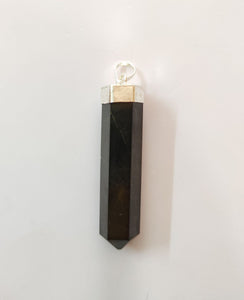 Shungite pendant
Regular price Rs. 1,990.00 Sale
According to anecdotal reports, shungite is helpful for relieving stress. It's believed to soak up negative energy and balance emotions.
Eases physical ailments
Traditionally, water infused with shungite has been used for:
allergies
sore throats
asthma
gastric issues
arthritis
kidney problems
liver problems
gallbladder issues
autoimmune disease
pancreatic dysfunction
chronic fatigue
Shungite can be used in several ways. According to those who use it regularly, you can:
Infuse your water. Historically, shungite is used to purify water. You can use a shungite filter or place the stones in water for 2 to 3 days.
Wear it as jewelry. Like other stones, shungite is available as beads or pendants.
Carry it in your bag. This allows you to benefit from shungite's healing properties when you're on the go. Another option is to place the stone in your pocket.
Place it near EMF sources. Some people put the stone near electronic devices, like microwaves and Wi-Fi routers, to shield them from EMF.
Display shungite in your home. It's recommended to put the stone near your bed to help you destress and improve your sleep.
Meditate with the stone. You can meditate near the stone or place it on your body.