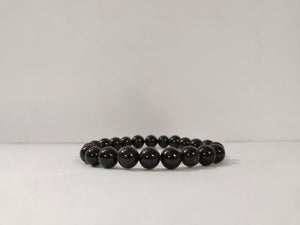 Black Tourmaline Bracelet
Regular price Rs. 1,700.00 Sale
Black Tourmaline  also aids in the removal of negative energies within a person or space. Black Tourmaline will cleanse, purify, and transform dense energy into a lighter vibration. A popular metaphysical stone, Black Tourmaline is also great for grounding. It balances, harmonizes, and protects all of the Chakras.

➢ Protects from negative energies - transmutes negative energies of all kinds (including thoughts) into positive energies.
➢ Receives the negative energy or psychic attack, and transmutes it BACK to the sender. For more information on negative energies see my blog post 
➢ Shields from harmful electromagnetic radiation—from TVs, computers, and mobile phones—by emitting a small electric current.
➢ Strengthens immunity
➢ Relieves stress and anxiety
➢ Promotes detoxification
➢ Increases alertness
➢ Supports organs
➢ Eliminates toxic heavy metals
➢ Helps circulation
➢ Improves metabolism
➢ Improves self-confidence
➢ Grounds energies - associated with the root chakra
➢ Balances and clears chakras and aura.


Who will benefit from Black Tourmaline?

EVERYONE - there are many reasons why virtually everyone would benefit from wearing black tourmaline. We are in constant contact with other people and their energies, especially in the workplace and the protective properties of Black Tourmaline do wonders in keeping you balanced, grounded, and free from picking up negative or unwanted energies from the environment.

Black Tourmaline is a must-have for anyone working in a healing profession. Those working with sick or mentally ill people will benefit as these people literally "suck" energy from you if you are not protected.