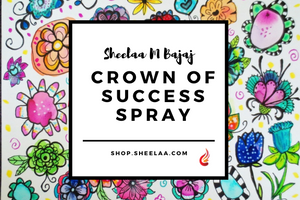 Crown of Success - COS Spray
Regular price Rs. 995.00 Sale
Attain Success in your life through our Crown of Success Spray (COS) which  is  specially formulated and made by Sheelaa M Bajaj who is the best numerologist in Asia. 
COS spray helps you to achieve tremendous success in your life, be it your work life, projects, businesses or even in various family situations. 
How to Use?
It can be used similarly to a perfume spray.
Delivery
2 days dispatch / 5-7 days delivery within India.

Shipping
Weight-based shipping charges will be applied at checkout.
Returns
No returns but exceptions can be made.