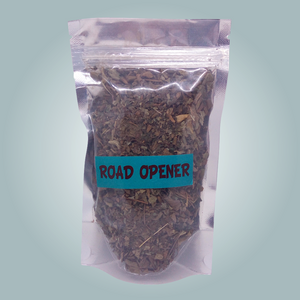 Road Opener Herb
Regular price Rs. 900.00 Sale
Have you ever felt stuck or heartbroken, and regardless of what you try, things never seem to iron themselves out? Then you should try the Red Opener Herb as it can help remove these blockages and allow what you desire to come can also be done in spell work. Also called Road Opening, the Road Opener herb is created from a shrub-like bush/herb called Abre Camino, which translates to the opening road or road opener.
It is commonly found in the Caribbean and in tropical climates such as southern Florida, and is generally created as dust or oil and can be used in ritual baths among others. This type of magical spell can help you get rid of one or many obstacles you are facing in your life.
Further, it can also help bring you success, good fortune, abundance, good health, money, love both at home and in the office. If you feel that you have been using many spells and magic tricks with no positive results, you should definitely give the Road Opener herb a try.
Road opener herb to help unblock any obstacles in life and open new avenues.
Unblock Obstacles in Your Life with Road Opener Herb
How To Use?
The Road Opener herb can be used just like you would with any other herbs in rituals. You can even sprinkle or leave a few herbs around door openings and even in the bedroom and living spaces to attract positivity into your space. This herb can even be ground into an oil and used in rituals as you perform them in the right way.
It comes it a sealable airtight bag and must remain that way when not in use. Adding to this, it should be stored in a cool dry place and away from damp, moist conditions as this may affect the overall properties of the herb. Some people include the herb when washing clothes to attract good luck for the day ahead.
Delivery
2 days dispatch / 5-7 days delivery within India.

Shipping
Weight-based shipping charges will be applied at checkout.
Returns
No returns but exceptions can be made.