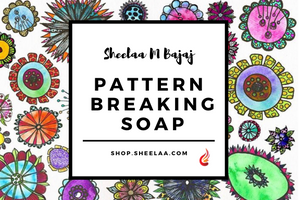 Breaking Patterns Soap
Regular price Rs. 500.00 Sale
When facing a repeat pattern in life, boredom, or bad luck.
The pattern-breaking soap changes back luck to good luck and break patterns that maybe stagnating you.
Use as a regular soap every day 
Best used after BMR salt (Please click this link to purchase BMR Salt)
Ingredients
The ingredients selected to infuse and add to the soap are natural rare herbs and extracts which have magical properties to provide the intended result. The soap is handmade with natural ingredients with a non-sulfate glycerine base. The herbs are carefully selected from around the world to have the perfect blend to provide the desired results.
How to Use?
Similar to how one uses a regular bath soap in the morning for the shower. This soap is a replacement for your regular soap. For specific results, a special combo may be required and the method of use could vary, which will be shared once you buy the soap.
It can additionally be used for washing hands as they work on the palm chakras.
Delivery
2 days dispatch / 5-7 days delivery within India.

Shipping
Weight-based shipping charges will be applied at checkout.
Returns
Unfortunately, we can't offer returns since this is a bath product.