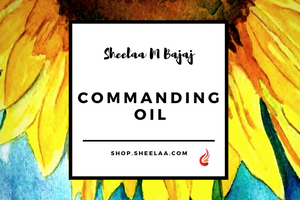 Commanding Oil
Regular price Rs. 995.00 Sale
Commanding is a specially formulated oil made by Sheelaa M Bajaj who is the best numerologist in Asia. 
Want to be in commanding position in life? Be it in negotiations during business, work, projects or even at home? This special oil can help you to achieve that commanding position and brings more power to your clarity of thoughts and deeper reach to your messages. You would surely appreciate the very pleasant and noticeable outcomes from using this product.
How to Use?
It can be used on pulse points and 7 chakras
Apply it to palm and sole of feet
To apply at the top of the head
It can also be added to bath water
Add it to mop water
Use it as a diffuser
It can be added to lotion and handwash liquid
Delivery
2 days dispatch / 5-7 days delivery within India.

Shipping
Weight-based shipping charges will be applied at checkout.
Returns
No returns but exceptions can be made.