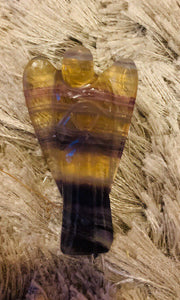 Florite Angel
Regular price Rs. 1,850.00 Sale
the picture is for representation and not the exact angel you will be receiving. 

The Fluorite crystal meaning comes from its distinctive fluorescent light that features different colors when exposed to UV rays. An excellent stone for students, the Fluoride crystal works to boost peacefulness and clear focus in your environment, making it a must-have for those times when you need to concentrate. The Fluorite crystal stone meaning can be used as a power source that magnifies everything around it, including other gemstones. This makes it a popular tool to include in healing layouts, especially if you're feeling mentally blocked.
This balancing and grounding stone anchors your ideas by giving structure to your thought process during challenging times. When you're put to the test, ask the Fluorite crystal to clear your head of toxic psychic debris and transform those thoughts into new ideas and innovations. Sow the seeds of inspiration with the Fluorite crystal, your stepping-stone to better decision-making and enhanced concentration.
If you're facing big challenges ahead, summon the healing white light of Fluorite by sitting quietly with the stone and giving it an intension . Follow your breath, inhaling peace and clarity while exhaling confusion and chaos. Let your breathing slow to a natural pace and inhale the peaceful vibes of the universe, exhaling turmoil and letting it all go with each breathe. Rinse and repeat until you feel a deep relaxation that helps clear the fog of your mind. With a clear head, fully experience all the intricate details of our beautiful world.