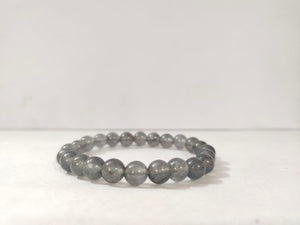 Iolite Bracelet
Regular price Rs. 1,200.00 Sale
Iolite releases discord within relationships. It encourages taking responsibility for yourself, overcoming codependency within your partnership. Iolite creates a strong constitution, ridding the body of fatty deposits. It diminishes the effect of alcohol and supports detoxification and regeneration of the liver.
Iolite resonates with the energy of twilight, a beautiful violet-blue that stimulates the astral bodies and psychic awareness. It reveals realms beyond the usual waking consciousness and is ideal for astral projection, dimensional and other inner vision works, and is excellent for past- and alternate-life work. 
Iolite is a stone of the muses, activating the visionary, creative side of the mind, and accessing thoughts and ideas beyond the ordinary. It inspires creative self-expression through writing, song, movement and other artistic endeavors.
It is an excellent source of energy when used for the elimination of debt and the responsible management of money.
Intution psychic powers, focus, and spiritual strength