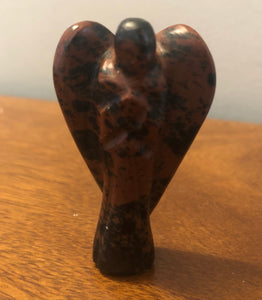 Mahogany Obsidian
Regular price Rs. 1,650.00 Sale
THIS PRODUCT IS CLEANSED AND ENERGISED BY SHEELAA M BAJAJ

Mahogany Jasper has a gentle energy that will ground and protect its owner. Use it for strength in times of need, to remove energy blocks, and give new life to your purposes and goals. Healers use it to relieve pain and improve circulation.

KEY WORDS Release from inner limitations, healing feelings of unworthiness

ELEMENT Earth

CHAKRAS Root (1st), Sexual/Creative (2nd)

Metaphysical Properties:

Mahogany jasper can help cleanse the second chakra of negative energies and residue from old wounds. Such fixations can block the flow of one's creative energies or create problems in the full expression of one's sexuality, so it is important work to make sure this chakra operates freely. Using Mahogany jasper in meditation, or especially in a body layout, between the first and second chakras, one can 'draw out the poison' of old unconscious memories of shame, humiliation or abuse, releasing them into the Light for dissolution and healing. Mahogany jasper can remove negative psychic 'implants' that hold one back in other areas. It is ideal for dispelling feelings of unworthiness that hold one back from fulfilling one's potential in work, love and spiritual awakening.

Carrying or wearing Mahogany Jasper shields one from psychic attack, whether it be from negative entities on the astral plane or an unconscious coworker's attempt at a put- down. It's a bit like having an etheric bodyguard!

Mahogany Jasper is useful for those choosing to move out of scarcity- mindedness and into abundance. It helps reveal limitations one has created due to fear and perceived separation. It is supportive, clearing and energizing to the first and second chakras.

SPIRITUAL Mahogany jasper assists in opening and cleansing the grounding channel, which is critical if one is to embody a full spectrum of energetic frequencies.

EMOTIONAL Mahogany jasper helps one dissolve ancestral patterns of abuse, negativity, hatred or fear that are ingrained in the DNA and emotional body. It is helpful in clearing birth trauma for mother and child, and can be a wonderful aid in the rebirthing experience.

PHYSICAL Mahogany jasper strengthens the organs and tissues. It supports detoxification by increasing liver and kidney function, enhancing the body's ability to discharge poisons.

Mahogany jasper has a gentler energy than black. Resonating with the earth, it grounds and protects, gives strength in times of need, vitalizes purpose, eliminates energy blockages, and stimulates growth on all levels. It is a stabilizing stone that strengthens a weak aura and restores the correct spin to the sacral and solar plexus chakras. Worn on the body, Mahogany jasper relieves pain and improves circulation.
Delivery
2 days dispatch / 5-7 days delivery within India.

Shipping
Weight-based shipping charges will be applied at checkout.
Returns
Unfortunately, we can't offer returns since this is a bath product.