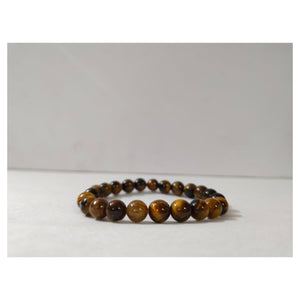 Tigers Eye Bracelet
Regular price Rs. 1,200.00 Sale
A stone of protection, Tiger Eye Bracelet may also bring good luck to the wearer. It has the power to focus the mind, promoting mental clarity, assisting us to resolve problems objectively and unclouded by emotions. Particularly useful for healing psychosomatic illnesses, dispelling fear and anxiety.
THIS STONE BRINGS THE WEARER GROWTH AND PROMOTION LUCK.
IF YOU ARE LAZY AND FEEL STAGNANT THIS STONE IS FOR YOU
It is believed to ward off the evil eyes from the wearer. It also keeps away the evil spirits and gives immense self confidence to its possessor.
Tiger Eye is most effective on Root chakra and Solar Plexus chakra. Root chakra exists at base of spine and helps to enhance the health and prosperity in life. By working on solar plexus chakra, it boosts the self confidence and inner strength.
Tiger Eye is quite beneficial to bring focus in mind. It also improves the stamina and re-energizes the senses.
It helps the wearer to stay grounded and eradicates the doubts from the mind. It is, in fact, a good luck bringing stone that protects the wearer from evil thoughts and ill wishes of enemies.
It also possesses many healing properties. Tiger Eye reduces the chronic pains, improves the strength of spines, and detoxifies the body. It also relieves stomach and digestion related ailments.
Astrologers also suggest this stone for children who have problems like lack of concentration, insomnia, or impatience. It is also advantageous to wear Tiger Eye for individuals who are quite stressed out in their life.
Tiger Eye also brings monetary gains to the wearer and improves the financial standing. Hence, it is widely recommended for businessmen as well.
It is a universal stone that can be worn by people related to any zodiac sign and gender, religion or age. It increases their vigor, honesty, determination, and vitality.
This stone is specifically beneficial for shy people as it can boost up their self confidence and personality disorders by removing their timidity.
Delivery
2 days dispatch / 5-7 days delivery within India.

Shipping
Weight-based shipping charges will be applied at checkout.
Returns
No returns but exceptions can be made.